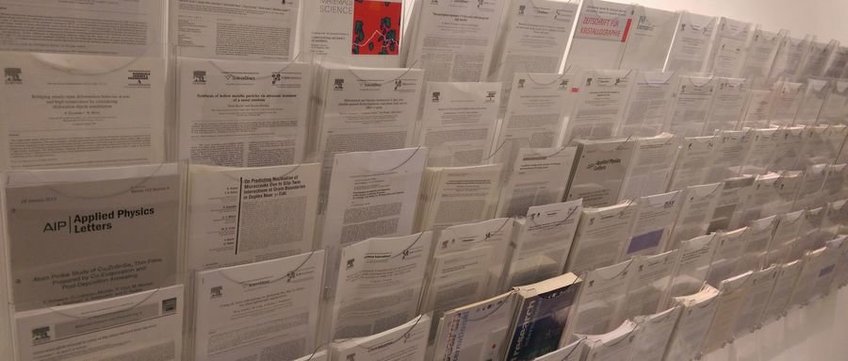 Publications of Leigh Stephenson
1.
Journal Article
Hydrogen and deuterium charging of lifted-out specimens for atom probe tomography [version 2; peer review: 1 approved, 1 approved with reservations]. Open Research Europe
2.
Journal Article
Laser-equipped gas reaction chamber for probing environmentally sensitive materials at near atomic scale. PLoS One
3.
Journal Article
144
(2), pp. 987 - 994 (2022)
Understanding Alkali Contamination in Colloidal Nanomaterials to Unlock Grain Boundary Impurity Engineering. Journal of the American Chemical Society
4.
Journal Article
Atom probe analysis of electrode materials for Li-ion batteries: challenges and ways forward. Journal of Materials Chemistry A (2022)
5.
Journal Article
Phase Separation and Anomalous Volume Expansion in Frozen Microscale Eutectic Indium-Gallium upon Remelting. Condensed Matter: Materials Science (2022)
6.
Journal Article
Status and Direction of Atom Probe Analysis of Frozen Liquids. Microscopy and Microanalysis, pp. 1 - 18 (2022)
7.
Journal Article
9
(5), pp. 1521 - 1536 (2021)
The role of Ca, Al and Zn on room temperature ductility and grain boundary cohesion of magnesium. Journal of Magnesium and Alloys
8.
Journal Article
Magnetoelectric Tuning of Pinning‐Type Permanent Magnets through Atomic‐Scale Engineering of Grain Boundaries. Advanced Materials
9.
Journal Article
2
ordered structures in face-centred cubic alloys. npj Computational Materials
7
(1), 8 (2021)
Convolutional neural network-assisted recognition of nanoscale L1
10.
Journal Article
Reflections on the Spatial Performance of Atom Probe Tomography in the Analysis of Atomic Neighborhoods. Microscopy and Microanalysis, pp. 1 - 11 (2021)
11.
Journal Article
51
, pp. 5517 - 5586 (2020)
Current Challenges and Opportunities in Microstructure-Related Properties of Advanced High-Strength Steels. Metallurgical and Materials Transactions A
12.
Journal Article
2
Nanowires. Angewandte Chemie, International Edition in English
59
(14), pp. 5651 - 5655 (2020)
Atomic‐Scale Mapping of Impurities in Partially Reduced Hollow TiO
13.
Journal Article
Nanoglass–Nanocrystal Composite - a Novel Material Class for Enhanced Strength-Plasticity Synergy. Small
14.
Journal Article
2
. Advanced Materials
32
(8), 1907235 (2020)
Direct Imaging of Dopant and Impurity Distributions in 2D MoS
15.
Journal Article
Imaging individual solute atoms at crystalline imperfections in metals. New Journal of Physics
16.
Journal Article
Quantification of solute deuterium in titanium deuteride by atom probe tomography with both laser pulsing and high-voltage pulsing: influence of the surface electric field. New Journal of Physics
17.
Journal Article
Ti and its alloys as examples of cryogenic focused ion beam milling of environmentally-sensitive materials. Nature Communications
18.
Journal Article
The Laplace project: An integrated suite for preparing and transferring atom probe samples under cryogenic and UHV conditions. PLoS One
19.
Journal Article
A near atomic-scale view at the composition of amyloid-beta fibrils by atom probe tomography. Scientific Reports