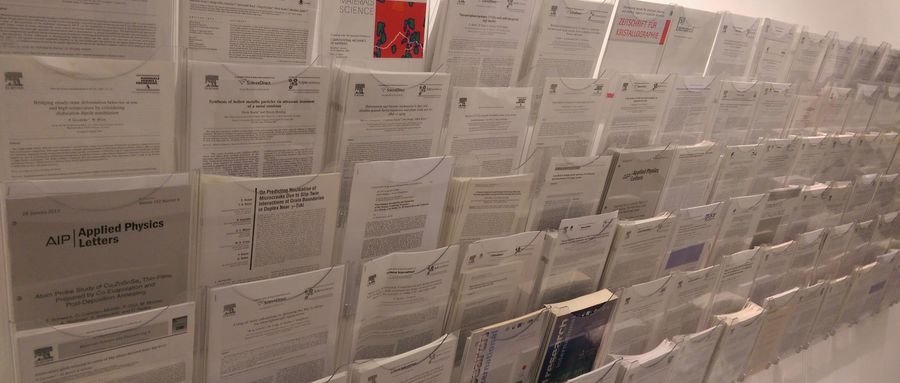 Open Access Publications of the Department Microstructure Physics and Alloy Design
1.
Journal Article
Convolutional neural network-assisted recognition of nanoscale L12 ordered structures in face-centred cubic alloys. npj Computational Materials
2.
Journal Article
Ultrastrong lightweight compositionally complex steels via dual-nanoprecipitation. Science Advances
3.
Journal Article
An efficient and robust approach to determine material parameters of crystal plasticity constitutive laws from macro-scale stress-strain curves. International Journal of Plasticity
4.
Journal Article
A numerical study of the influence of crystal plasticity modeling parameters on the plastic anisotropy of rolled aluminum sheet. Modelling and Simulation in Materials Science and Engineering
5.
Journal Article
Stabilization of an iridium oxygen evolution catalyst by titanium oxides. Journal of Physics: Energy, 100258.R1 (2020)
6.
Journal Article
51
, pp. 5517 - 5586 (2020)
Current Challenges and Opportunities in Microstructure-Related Properties of Advanced High-Strength Steels. Metallurgical and Materials Transactions A 50th Anniversary Collection
7.
Journal Article
A new class of lightweight, stainless steels with ultra-high strength and large ductility. Scientific Reports
8.
Journal Article
A strong and ductile medium-entropy alloy resists hydrogen embrittlement and corrosion. Nature Communications
9.
Journal Article
Multi-component chemo-mechanics based on transport relations for the chemical potential. Computer Methods in Applied Mechanics and Engineering
10.
Journal Article
Spinodal decomposition in alkali feldspar studied by atom probe tomography. Physics and Chemistry of Minerals
11.
Journal Article
Grain boundary energy effect on grain boundary segregation in an equiatomic high-entropy alloy. Physical Review Materials
12.
Journal Article
Quantification of 3D spatial correlations between state variables and distances to the grain boundary network in full-field crystal plasticity spectral method simulations. Modelling and Simulation in Materials Science and Engineering
13.
Journal Article
Effect of Twin Boundary Motion and Dislocation-Twin Interaction on Mechanical Behavior in Fcc Metals. Materials
14.
Journal Article
26
(22), pp. 4917 - 4922 (2020)
Irreversible Structural Changes of Copper Hexacyanoferrate used as Cathode in Zn‐Ion Batteries. Chemistry – A European Journal
15.
Journal Article
7
(89), pp. 1 - 12 (2020)
Review on Quantum Mechanically Guided Design of Ultra-Strong Metallic Glasses. Frontiers in Materials
16.
Journal Article
0.75
Cu
0.5
FeNi high-entropy powder at the nanoscale. Journal of Alloys and Compounds
820
, 153149 (2020)
Early stage phase separation of AlCoCr
17.
Journal Article
65
(4), pp. 925 - 939 (2020)
An FFT-based spectral solver for interface decohesion modelling using a gradient damage approach. Computational Mechanics
18.
Journal Article
2
Nanowires. Angewandte Chemie, International Edition in English
59
(14), pp. 5651 - 5655 (2020)
Atomic‐Scale Mapping of Impurities in Partially Reduced Hollow TiO
19.
Journal Article
Interplay of Chemistry and Faceting at Grain Boundaries in a Model Al Alloy. Physical Review Letters
20.
Journal Article
Microchemistry-dependent simulation of yield stress and flow stress in non-heat treatable Al sheet alloys. Modelling and Simulation in Materials Science and Engineering