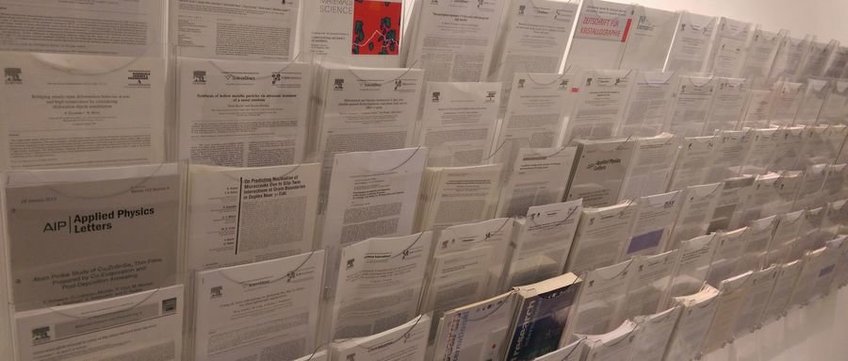 Open Access Publications 
Department Microstructure Physics and Alloy Design
1.
Journal Article
Role of Ag segregation on microscale strengthening and slip transmission in an asymmetric Σ5 copper grain boundary. Acta Materialia
2.
Journal Article
Three-dimensional study of grain scale tensile twinning activity in magnesium: A combination of microstructure characterization and mechanical modeling. Acta Materialia
3.
Journal Article
Application of a nanoindentation-based approach for parameter identification to a crystal plasticity model for bcc metals. Materials Science and Engineering A: Structural Materials Properties Microstructure and Processing
4.
Journal Article
Boron trapping at dislocations in an additively manufactured polycrystalline superalloy. Materialia
5.
Journal Article
Decoupling the electrical resistivity contribution of grain boundaries in dilute Fe-alloyed Cu thin films. Scripta Materialia
6.
Journal Article
Fe segregation as a tool to enhance electrical conductivity of grain boundaries in Ti(Co,Fe)Sb half Heusler thermoelectrics. Acta Materialia
7.
Journal Article
Modeling Bainite Dual-Phase Steels: A High-Resolution Crystal Plasticity Simulation Study. Crystals
8.
Journal Article
Toward the design of ultrahigh-entropy alloys via mining six million texts. Nature Communications
9.
Journal Article
Precipitate formation in the Fe–Al–Nb and Fe–Al–Ta systems. Scripta Materialia
10.
Journal Article
Influence of Hot Band Annealing on Cold-Rolled Microstructure and Recrystallization in AA 6016. Metallurgical and Materials Transactions A
11.
Journal Article
3+
-doped Ca
2
Nb
3
O
10
nanosheets. Scientific Reports
13
, 8055 (2023)
Combined structural analysis and cathodoluminescence investigations of single Pr
12.
Journal Article
Electron microscope loading and in situ nanoindentation of water ice at cryogenic temperatures. PLoS One
13.
Journal Article
Transmission Kikuchi Diffraction Mapping Induces Structural Damage in Atom Probe Specimens. Microscopy and Microanalysis, ozad029 (2023)
14.
Journal Article
Chemical Analysis for Alkali Ion–exchanged Glass Using Atom Probe Tomography. Microscopy and Microanalysis, ozad034 (2023)
15.
Journal Article
3C2Tx MXenes: Insights from Atom Probe Tomography. Advanced Materials, 2305183 (2023)
Near-Atomic Scale Perspective on the Oxidation of Ti
16.
Journal Article
Finite strain crystal plasticity-phase field modeling of twin, dislocation, and grain boundary interaction in hexagonal materials. Acta Materialia
17.
Journal Article
Data-driven "cross-component" design and optimization of γ′-strengthened Co-based superalloys. Advanced Engineering Materials, 2201257 (2023)
18.
Journal Article
Reducing Iron Oxide with Ammonia: A Sustainable Path to Green Steel. Advanced Science, 2300111 (2023)
19.
Journal Article
Introducing field evaporation energy loss spectroscopy. Communications Physics
20.
Journal Article
2
Cathode for Li-Ion Batteries Stored in Air. Advanced Energy and Sustainability Research
4
(1), 2200121 (2023)
Near-Atomic-Scale Evolution of the Surface Chemistry in Li[Ni,Mn,Co]O