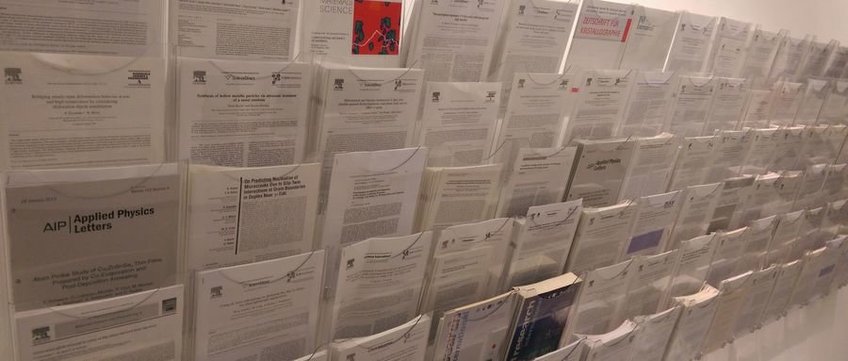 Open Access Publications 
Department Microstructure Physics and Alloy Design
1.
Journal Article
Hierarchical nature of hydrogen-based direct reduction of iron oxides. Scripta Materialia
2.
Journal Article
2
leading to self-healing of the delaminated interface. Corrosion Science
200
, 110252 (2022)
Organic composite coatings containing mesoporous silica particles: Degradation of the SiO
3.
Journal Article
Influence of Strain Rate Sensitivity on Cube Texture Evolution in Aluminium Alloys. Metallurgical and Materials Transactions A (2022)
4.
Journal Article
Modeling and simulation of microstructure in metallic systems based on multi-physics approaches. npj Computational Materials
5.
Journal Article
4
Particles. ACS Applied Electronic Materials
4
(4), pp. 2095 - 2100 (2022)
Effects of Defect Density on Optical Properties Using Correlative Cathodoluminescence and Transmission Electron Microscopy Measurements on Identical PrNbO
6.
Journal Article
2
accessed by room-temperature nanoindentation. Scripta Materialia
212
, 114543 (2022)
Dislocation-enhanced electrical conductivity in rutile TiO
7.
Journal Article
A Review of FE-FFT-Based Two-Scale Methods for Computational Modeling of Microstructure Evolution and Macroscopic Material Behavior. Archives of Computational Methods in Engineering (2022)
8.
Journal Article
CALPHAD-informed phase-field model for two-sublattice phases based on chemical potentials: η-phase precipitation in Al–Zn–Mg–Cu alloys. Acta Materialia
9.
Journal Article
Measuring oxygen solubility in Ni grains and boundaries after oxidation using atom probe tomography. Scripta Materialia
10.
Journal Article
Revealing in-plane grain boundary composition features through machine learning from atom probe tomography data. Acta Materialia
11.
Journal Article
Hydrogen and deuterium charging of lifted-out specimens for atom probe tomography [version 2; peer review: 1 approved, 1 approved with reservations]. Open Research Europe
12.
Journal Article
602
, pp. 437 - 441 (2022)
Hydrogen trapping and embrittlement in high-strength Al-alloys. Nature
13.
Journal Article
Laser-equipped gas reaction chamber for probing environmentally sensitive materials at near atomic scale. PLoS One
14.
Journal Article
Origins of the hydrogen signal in atom probe tomography: case studies of alkali and noble metals. New Journal of Physics
15.
Journal Article
144
(2), pp. 987 - 994 (2022)
Understanding Alkali Contamination in Colloidal Nanomaterials to Unlock Grain Boundary Impurity Engineering. Journal of the American Chemical Society
16.
Journal Article
Chemo-Mechanical Phase-Field Modeling of Iron Oxide Reduction with Hydrogen. Condensed Matter: Materials Science (2022)
17.
Journal Article
Multidimensional thermally-induced transformation of nest-structured complex Au–Fe nanoalloys towards equilibrium. Nano Research
18.
Journal Article
Atom probe analysis of electrode materials for Li-ion batteries: challenges and ways forward. Journal of Materials Chemistry A (2022)
19.
Journal Article
Controlled Doping of Electrocatalysts through Engineering Impurities. Advanced Materials, 2203030 (2022)
20.
Journal Article
Recrystallization in non-conventional microstructures of 316L stainless steel produced via laser powder-bed fusion: effect of particle coarsening kinetics. Journal of Materials Science (2022)