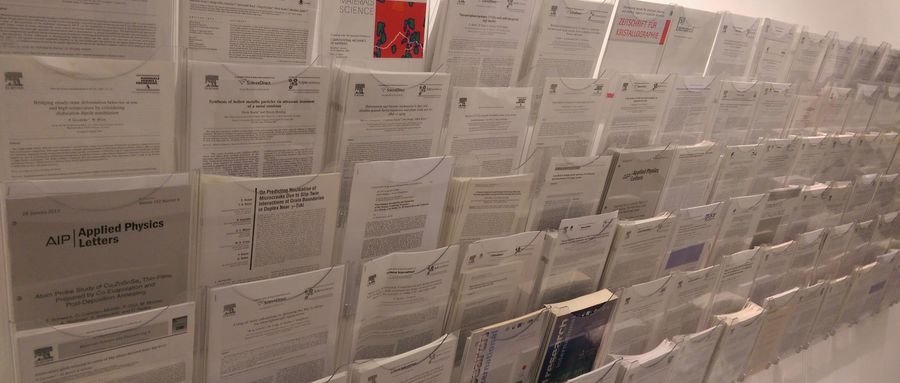 Open Access Publications of the Department Microstructure Physics and Alloy Design
1.
Journal Article
On strong-scaling and open-source tools for analyzing atom probe tomography data. npj Computational Materials
2.
Journal Article
Convolutional neural network-assisted recognition of nanoscale L12 ordered structures in face-centred cubic alloys. npj Computational Materials
3.
Journal Article
Machine-learning-enhanced time-of-flight mass spectrometry analysis. Patterns
4.
Journal Article
Beyond Solid Solution High‐Entropy Alloys: Tailoring Magnetic Properties via Spinodal Decomposition. Advanced Functional Materials
5.
Journal Article
Magnetoelectric Tuning of Pinning‐Type Permanent Magnets through Atomic‐Scale Engineering of Grain Boundaries. Advanced Materials
6.
Journal Article
14
(3), pp. 691 - 709 (2021)
Lath Martensite Microstructure Modeling: A High-Resolution Crystal Plasticity Simulation Study. Materials, Special Issue "Micromechanics: Experiment, Modeling and Theory"
7.
Journal Article
Enhanced precipitation strengthening of multi-principal element alloys by κ- and B2-phases. Materials and Design
8.
Journal Article
A Novel Soft‐Magnetic B2‐Based Multiprincipal‐Element Alloy with a Uniform Distribution of Coherent Body‐Centered‐Cubic Nanoprecipitates. Advanced Materials, 2006723 (2021)
9.
Journal Article
Controlling the Oxidation of Magnetic and Electrically Conductive Solid-Solution Iron-Rhodium Nanoparticles Synthesized by Laser Ablation in Liquids. Nanomaterials
10.
Journal Article
Ultrastrong lightweight compositionally complex steels via dual-nanoprecipitation. Science Advances
11.
Journal Article
An efficient and robust approach to determine material parameters of crystal plasticity constitutive laws from macro-scale stress-strain curves. International Journal of Plasticity
12.
Journal Article
A numerical study of the influence of crystal plasticity modeling parameters on the plastic anisotropy of rolled aluminum sheet. Modelling and Simulation in Materials Science and Engineering
13.
Journal Article
Stabilization of an iridium oxygen evolution catalyst by titanium oxides. Journal of Physics: Energy, 100258.R1 (2020)
14.
Journal Article
Dislocation plasticity and detwinning under thermal stresses in nanotwinned Ag thin films. Acta Materialia
15.
Journal Article
51
, pp. 5517 - 5586 (2020)
Current Challenges and Opportunities in Microstructure-Related Properties of Advanced High-Strength Steels. Metallurgical and Materials Transactions A 50th Anniversary Collection
16.
Journal Article
Laser Powder-Bed Fusion as an Alloy Development Tool: Parameter Selection for In-Situ Alloying Using Elemental Powders. Materials
17.
Journal Article
A new class of lightweight, stainless steels with ultra-high strength and large ductility. Scientific Reports
18.
Journal Article
A strong and ductile medium-entropy alloy resists hydrogen embrittlement and corrosion. Nature Communications
19.
Journal Article
Multi-component chemo-mechanics based on transport relations for the chemical potential. Computer Methods in Applied Mechanics and Engineering
20.
Journal Article
Spinodal decomposition in alkali feldspar studied by atom probe tomography. Physics and Chemistry of Minerals