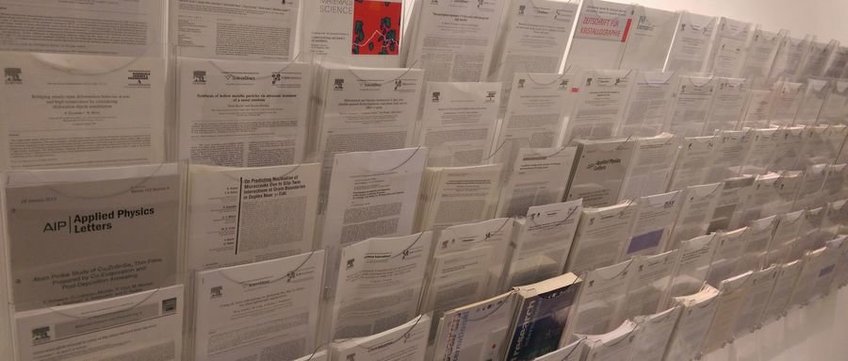 Open Access Publications 
Department Microstructure Physics and Alloy Design
1.
Journal Article
23
(1), pp. 376 - 392 (2022)
Impact of interstitial elements on the stacking fault energy of an equiatomic CoCrNi medium entropy alloy: theory and experiments. Science and Technology of Advanced Materials
2.
Journal Article
Modelling of additive manufacturability of nickel-based superalloys for laser powder bed fusion. Acta Materialia
3.
Journal Article
Crystal plasticity simulation of in-grain microstructural evolution during large deformation of IF-steel. Acta Materialia
4.
Journal Article
Deep learning framework for uncovering compositional and environmental contributions to pitting resistance in passivating alloys. npj Materials Degradation
5.
Journal Article
Coupling crystal plasticity and cellular automaton models to study meta- dynamic recrystallization during hot rolling at high strain rates. Materials Science and Engineering A: Structural Materials Properties Microstructure and Processing
6.
Journal Article
Thermodynamics-guided alloy and process design for additive manufacturing. Nature Communications
7.
Journal Article
Atomic scale evolution of the surface chemistry in Li[Ni,Mn,Co]O2 cathode for Li-ion batteries stored in air. Condensed Matter: Materials Science (2022)
8.
Journal Article
Chemo-Mechanical Phase-Field Modeling of Iron Oxide Reduction with Hydrogen. Acta Materialia
9.
Journal Article
Hierarchical nature of hydrogen-based direct reduction of iron oxides. Scripta Materialia
10.
Journal Article
2
leading to self-healing of the delaminated interface. Corrosion Science
200
, 110252 (2022)
Organic composite coatings containing mesoporous silica particles: Degradation of the SiO
11.
Journal Article
53
, pp. 2832 - 2860 (2022)
Influence of Strain Rate Sensitivity on Cube Texture Evolution in Aluminium Alloys. Metallurgical and Materials Transactions A
12.
Journal Article
Modeling and simulation of microstructure in metallic systems based on multi-physics approaches. npj Computational Materials
13.
Journal Article
4
Particles. ACS Applied Electronic Materials
4
(4), pp. 2095 - 2100 (2022)
Effects of Defect Density on Optical Properties Using Correlative Cathodoluminescence and Transmission Electron Microscopy Measurements on Identical PrNbO
14.
Journal Article
2
accessed by room-temperature nanoindentation. Scripta Materialia
212
, 114543 (2022)
Dislocation-enhanced electrical conductivity in rutile TiO
15.
Journal Article
A Review of FE-FFT-Based Two-Scale Methods for Computational Modeling of Microstructure Evolution and Macroscopic Material Behavior. Archives of Computational Methods in Engineering (2022)
16.
Journal Article
CALPHAD-informed phase-field model for two-sublattice phases based on chemical potentials: η-phase precipitation in Al–Zn–Mg–Cu alloys. Acta Materialia
17.
Journal Article
Measuring oxygen solubility in Ni grains and boundaries after oxidation using atom probe tomography. Scripta Materialia
18.
Journal Article
Revealing in-plane grain boundary composition features through machine learning from atom probe tomography data. Acta Materialia
19.
Journal Article
Hydrogen and deuterium charging of lifted-out specimens for atom probe tomography [version 2; peer review: 1 approved, 1 approved with reservations]. Open Research Europe
20.
Journal Article
602
, pp. 437 - 441 (2022)
Hydrogen trapping and embrittlement in high-strength Al-alloys. Nature