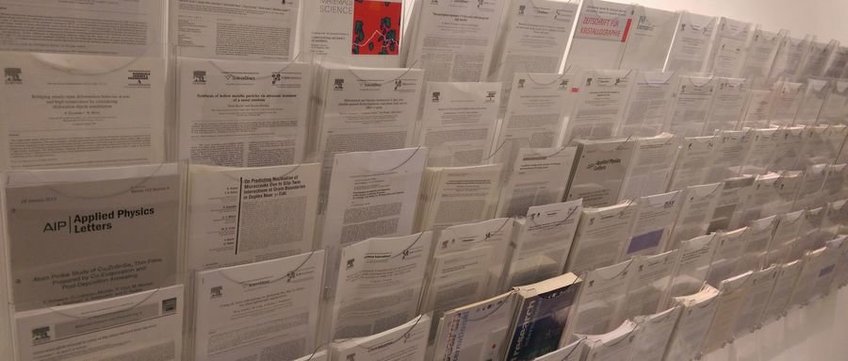 Open Access Publications 
Department Microstructure Physics and Alloy Design
1.
Journal Article
Revealing the true partitioning character of zirconium in additively manufactured polycrystalline superalloys. Additive Manufacturing Letters
2.
Journal Article
On strong-scaling and open-source tools for analyzing atom probe tomography data. npj Computational Materials
3.
Journal Article
20
, pp. 1629 - 1634 (2021)
Chemical heterogeneity enhances hydrogen resistance in high-strength steels. Nature Materials
4.
Journal Article
Mechanism-controlled thermomechanical treatment of high manganese steels. Materials Science and Engineering A: Structural Materials Properties Microstructure and Processing
5.
Journal Article
Large-deformation crystal plasticity simulation of microstructure and microtexture evolution through adaptive remeshing. International Journal of Plasticity
6.
Journal Article
Aluminum depletion induced by co-segregation of carbon and boron in a bcc-iron grain boundary. Nature Communications
7.
Journal Article
54
(Pt 5), pp. 1490 - 1508 (2021)
Open and strong-scaling tools for atom-probe crystallography: high-throughput methods for indexing crystal structure and orientation. Journal of Applied Crystallography
8.
Journal Article
Topological aspects responsible for recrystallization evolution in an IF-steel sheet – Investigation with cellular-automaton simulations. Computational Materials Science
9.
Journal Article
Evaluation of hydrogen effect on the fatigue crack growth behavior of medium-Mn steels via in-situ hydrogen plasma charging in an environmental scanning electron microscope. Journal of Materials Science & Technology
10.
Journal Article
Reactive wear protection through strong and deformable oxide nanocomposite surfaces. Nature Communications
11.
Journal Article
Ultrastrong and Ductile Soft Magnetic High-Entropy Alloys via Coherent Ordered Nanoprecipitates. Advanced Materials
12.
Journal Article
Dopant-segregation to grain boundaries controls electrical conductivity of η-type NbCo(Pt)Sn half-Heusler alloy mediating thermoelectric performance. Acta Materialia
13.
Journal Article
9
(5), pp. 1521 - 1536 (2021)
The role of Ca, Al and Zn on room temperature ductility and grain boundary cohesion of magnesium. Journal of Magnesium and Alloys
14.
Journal Article
Enhancement of vacancy diffusion by C and N interstitials in the equiatomic FeMnNiCoCr high entropy alloy. Acta Materialia
15.
Journal Article
CALPHAD-informed phase-field modeling of grain boundary microchemistry and precipitation in Al–Zn–Mg–Cu alloys. Acta Materialia
16.
Journal Article
Chromium coatings from trivalent chromium plating baths: Characterization and cathodic delamination behaviour. Corrosion Science
17.
Journal Article
Three-dimensional atomic mapping of ligands on palladium nanoparticles by atom probe tomography. Nature Communications
18.
Journal Article
3
Sb
2
-Based Thermoelectric Materials. Advanced Functional Materials
31
(28), 2100258 (2021)
Nb-Mediated Grain Growth and Grain-Boundary Engineering in Mg
19.
Journal Article
Author Correction: Correlating advanced microscopies reveals atomic-scale mechanisms limiting lithium-ion battery lifetime (Nature Communications, (2021), 12, 1, (3740), 10.1038/s41467-021-24121-9). Nature Communications
20.
Journal Article
Correlating advanced microscopies reveals atomic-scale mechanisms limiting lithium-ion battery lifetime. Nature Communications