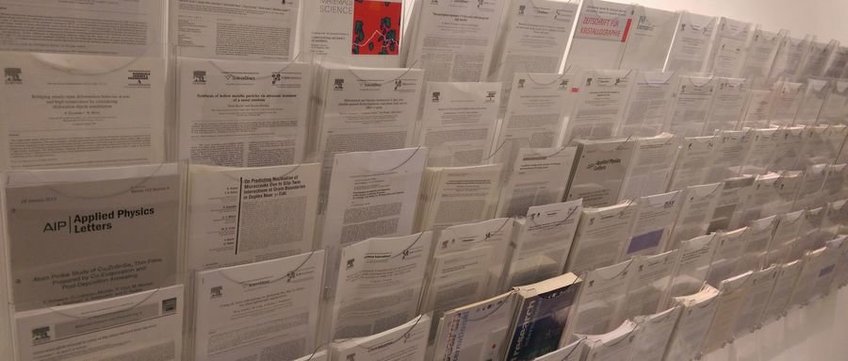 Open Access Publications 
Department Microstructure Physics and Alloy Design
1.
Journal Article
The Laplace project: An integrated suite for preparing and transferring atom probe samples under cryogenic and UHV conditions. PLoS One
2.
Journal Article
2
high stiffness metal matrix composite steels. Materials and Design
160
, pp. 557 - 571 (2018)
Particle-induced damage in Fe–TiB
3.
Journal Article
Phase nucleation through confined spinodal fluctuations at crystal defects evidenced in Fe–Mn alloys. Nature Communications
4.
Journal Article
30
(6), pp. 423 - 430 (2018)
Direct observation of dislocation nucleation in pyrite using combined electron channelling contrast imaging and electron backscatter diffraction. Terra Nova
5.
Journal Article
Ordering of primary carbonitrides in an austenitic steel revealed by transmission electron microscopy and atom probe tomography. Materials
6.
Journal Article
Eliminating deformation incompatibility in composites by gradient nanolayer architectures. Scientific Reports
7.
Journal Article
49
(9), pp. 4236 - 4245 (2018)
The Role of Oxidized Carbides on Thermal-Mechanical Performance of Polycrystalline Superalloys. Metallurgical and Materials Transactions A
8.
Journal Article
70
(9), pp. 1736 - 1743 (2018)
Correlative Microscopy—Novel Methods and Their Applications to Explore 3D Chemistry and Structure of Nanoscale Lattice Defects: A Case Study in Superalloys. JOM-Journal of the Minerals Metals & Materials Society
9.
Journal Article
8
(6), 430, pp. 1 - 16 (2018)
Multiscale Modelling of Hydrogen Transport and Segregation in Polycrystalline Steels. Metals
10.
Journal Article
5
(30), pp. 1 - 10 (2018)
Strain Rate Sensitivity of a TRIP-Assisted Dual-Phase High-Entropy Alloy. Frontiers in Materials Structural Materials
11.
Journal Article
9
, 826, pp. 1 - 12 (2018)
Sodium enhances indium-gallium interdiffusion in copper indium gallium diselenide photovoltaic absorbers. Nature Communications
12.
Journal Article
51
(10), 105601, pp. 1 - 10 (2018)
Impact of local electrostatic field rearrangement on field ionization. Journal of Physics D: Applied Physics
13.
Journal Article
A near atomic-scale view at the composition of amyloid-beta fibrils by atom probe tomography. Scientific Reports
14.
Journal Article
Molecular statics simulation of CdTe grain boundary structures and energetics using a bond-order potential. Modelling and Simulation in Materials Science and Engineering
15.
Conference Paper
State of the Art and Emerging Trends in Additive Manufacturing: From Multi-Material processes to 3D printed Electronics. 5th International Conference of Engineering Against Failure (ICEAF-V 2018) , Chios Island, Greece, June 20, 2018 - June 22, 2018. MATEC Web of Conferences