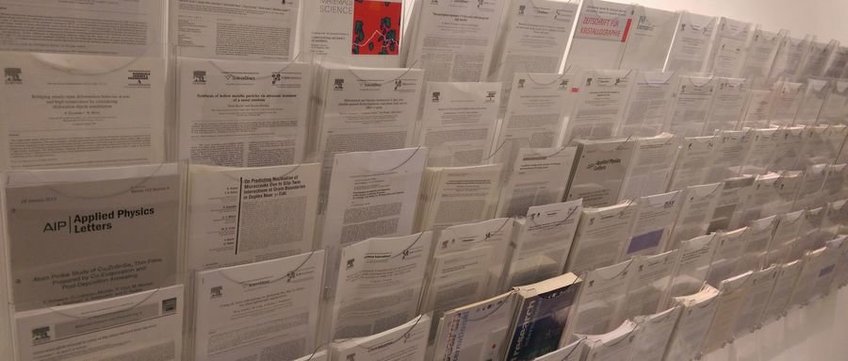 Open Access Publications 
Department Microstructure Physics and Alloy Design
1.
Journal Article
Morphological evolution of Pt-modified nanoporous gold after thermal coarsening in reductive and oxidative environments. npj Materials Degradation
2.
Journal Article
The brittle-to-ductile transition in cold-rolled tungsten sheets: Contributions of grain and subgrain boundaries to the enhanced ductility after pre-deformation. Nuclear Materials and Energy
3.
Journal Article
Controlling the Oxidation of Magnetic and Electrically Conductive Solid-Solution Iron-Rhodium Nanoparticles Synthesized by Laser Ablation in Liquids. Nanomaterials
4.
Journal Article
Multi-phase-field simulation of microstructure evolution in metallic foams. Scientific Reports
5.
Journal Article
Ultrastrong lightweight compositionally complex steels via dual-nanoprecipitation. Science Advances
6.
Journal Article
An efficient and robust approach to determine material parameters of crystal plasticity constitutive laws from macro-scale stress-strain curves. International Journal of Plasticity
7.
Journal Article
A numerical study of the influence of crystal plasticity modeling parameters on the plastic anisotropy of rolled aluminum sheet. Modelling and Simulation in Materials Science and Engineering
8.
Journal Article
4
in Near-pH-Neutral Electrolytes. ACS Applied Energy Materials
3
(10), pp. 9523 - 9527 (2020)
Different Photostability of BiVO
9.
Journal Article
Stabilization of an iridium oxygen evolution catalyst by titanium oxides. Journal of Physics: Energy
10.
Journal Article
Dislocation plasticity and detwinning under thermal stresses in nanotwinned Ag thin films. Acta Materialia
11.
Journal Article
The edge regions in tergites of the desert isopod Hemilepistus reaumuri: the transition from hard cuticle to flexible arthrodial membrane. Applied Physics A
12.
Journal Article
51
, pp. 5517 - 5586 (2020)
Current Challenges and Opportunities in Microstructure-Related Properties of Advanced High-Strength Steels. Metallurgical and Materials Transactions A
13.
Journal Article
Laser Powder-Bed Fusion as an Alloy Development Tool: Parameter Selection for In-Situ Alloying Using Elemental Powders. Materials
14.
Journal Article
8
(3), pp. 819 - 831 (2020)
Kinetic modeling of high-temperature oxidation of pure Mg. Journal of Magnesium and Alloys
15.
Journal Article
Nanostructural metallic materials: Structures and mechanical properties. Materials Today
16.
Journal Article
Selective oxidation of ternary Fe–Mn–Si alloys during annealing process. Corrosion Science
17.
Journal Article
26
(S2), pp. 3076 - 3077 (2020)
Atom Probe Tomographic Investigation of the Solute Segregation to Crystal Defects in γ-phase Co–35Ni–20Cr–10Mo Superalloy. Microscopy and Microanalysis
18.
Journal Article
194
, pp. 257 - 275 (2020)
The effect of solid solution and gamma prime on the deformation modes in Ni-based superalloys. Acta Materialia
19.
Journal Article
26
(S2), pp. 3078 - 3080 (2020)
Unveiling True Three-dimensional Microstructural Evolution in Novel Chalcogenide Nanocomposites as a Route to Infrared Gradient Refractive Index Functionality. Microscopy and Microanalysis
20.
Journal Article
26
(S2), pp. 2078 - 2079 (2020)
Exploration of Novel Ordering Mechanism in Titanium Alloys Using Atom Probe Tomography and Aberration-corrected Scanning Transmission Electron Microscopy. Microscopy and Microanalysis