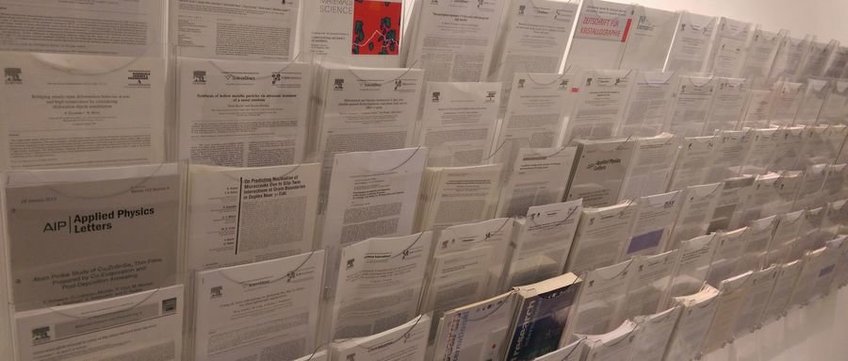 Publications of Huan Zhao
1.
Journal Article
2
leading to self-healing of the delaminated interface. Corrosion Science
200
, 110252 (2022)
Organic composite coatings containing mesoporous silica particles: Degradation of the SiO
2.
Journal Article
Revealing in-plane grain boundary composition features through machine learning from atom probe tomography data. Acta Materialia
3.
Journal Article
602
, pp. 437 - 441 (2022)
Hydrogen trapping and embrittlement in high-strength Al-alloys. Nature
4.
Journal Article
Understanding the degradation of a model Si-anode in Li-ion battery at the atomic-scale. Condensed Matter: Materials Science (2022)
5.
Journal Article
On strong-scaling and open-source tools for analyzing atom probe tomography data. npj Computational Materials
6.
Journal Article
Reactive wear protection through strong and deformable oxide nanocomposite surfaces. Nature Communications
7.
Journal Article
CALPHAD-informed phase-field modeling of grain boundary microchemistry and precipitation in Al–Zn–Mg–Cu alloys. Acta Materialia
8.
Journal Article
Machine-learning-enhanced time-of-flight mass spectrometry analysis. Patterns
9.
Journal Article
Ultrastrong lightweight compositionally complex steels via dual-nanoprecipitation. Science Advances
10.
Journal Article
Interplay of Chemistry and Faceting at Grain Boundaries in a Model Al Alloy. Physical Review Letters
11.
Conference Paper
326
, 01004. The 17th International Conference on Aluminium Alloys 2020 (ICAA17) , Grenoble, France, October 26, 2020 - October 29, 2020. (2020)
Grain boundary segregation and precipitation in an Al–Zn–Mg–Cu alloy. In: edp Sciences, MATEC Web of Conferences, Section Plenary Lecture & ECR Award Recipients, Vol.