Dr. Michael Rohwerder wins European Corrosion Medal
The prize honours Rohwerder for his significant contributions in the field of corrosion science
The European Federation of Corrosion (EFC) awarded Dr. Michael Rohwerder, leader of the "Corrosion" group at the Max-Planck Institut für Eisenforschung (MPIE) with the European Corrosion Medal. The prize is endowed with a bronze medal and a diploma honours scientists' application of corrosion science.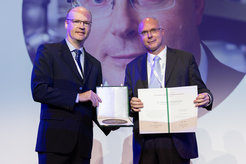 Rohwerder has been working in the field of corrosion science for 25 years and published more than 200 peer-reviewed articles. His research includes metallic, organic and self-healing coatings, hydrogen in materials and corrosion. Rohwerder has also taken a strong interest in how metallic materials and coatings can be tailored for future sustainable energy applications: "To reduce carbon emissions and achieve a climate neutral industry, resilient infrastructures are required. Green energy often relies on the use of hydrogen as a renewable energy source. Meanwhile, hydrogen often leads to materials failure due to a phenomenon called hydrogen embrittlement. Also, other severe corrosion problems are seen in the green energy sector, for example in electrolysers. Thus, solving corrosion problems is crucial for the transition towards a sustainable future. This challenge drives my passion for corrosion science. Receiving the European Corrosion Medal has been a great honour and strengthens my motivation further", says Rohwerder.
Rohwerder received the medal and presented his research on the occasion of the European Corrosion Congress (EUROCORR) in August. The EFC brings together 45 research organizations from 25 European countries to advance corrosion science through cooperation and networking.