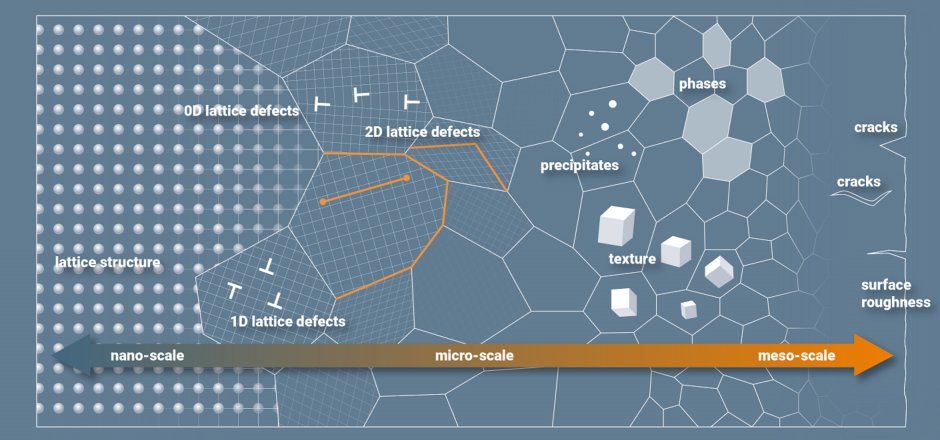 Search results
21.
Talk
Chemistry at Lattice Defects Probed at Atomic Scale. The 53rd Annual Meeting of the Israel Society for Microscopy, Tel Aviv, Israel, Tel Aviv, Israel (2019)
22.
Talk
Interaction of Chemistry and Structure at Lattice Defects at Atomic Scale. Russell Berrie Nanotechnology Institute, Technion, Haifa, Israel, Haifa, Israel (2019)
23.
Talk
Chemistry and Structure of Lattice Defects. Physics Colloquium, Faculty of Physics, University Duisburg-Essen, Duisburg, Germany (2019)
24.
Talk
Understanding deformation mechanisms in superalloys through atomic scale microanalysis. TMS 2019 Annual Meeting & Exhibition, San Antonio, TX, USA (2019)
25.
Talk
Local and global alloy design: metastability of single lattice defects and alloys with extreme metastability. MIT Workshop on Alloy Design, Cambridge, MA, USA (2018)
26.
Talk
Grain boundary segregation and transformation in complex alloys. MRS Fall Meeting , Boston, MA, USA (2018)
27.
Talk
Segregation and Transformation at Lattice Defects in Complex Alloys: A Microstructure Design Toolbox. MRS Fall Meeting 2018, Boston, MA, USA (2018)
28.
Talk
Segregation and Transformation at Lattice Defects as Microstructure Design Toolbox. Materials Science and Engineering Congress, Darmstadt, Germany (2018)
29.
Talk
Advancing Alloys by Segregation Engineering. 18th International Conference on the Strength of Materials (ICSMA18), Ohio State University, Columbus, OH, USA (2018)
30.
Talk
From Seeing Atoms Toward Understanding Atoms: Methods, Results and Challenges of Advanced Atom Probe Tomography. Hausdorff Lecture, Hausdorff Center for Mathematics, University of Bonn, Bonn, Germany (2018)
31.
Talk
The Role of Atom Probe Tomography on the Development of the Next Generation of High Performance Materials. 4th International Congress on 3D Materials Science (3DMS 2018), Helsingᴓr (Elsinore), Denmark (2018)
32.
Talk
Calibration of Atom Probe Tomography Reconstructions from Correlation with Electron Tomograms or Micrographs. APT&M 2018, NIST, Gaithersburg, MD, USA (2018)
33.
Talk
Chemo-Mechanics in Metallic Alloys. 16th Edition of the European Mechanics of Material Conference, Nantes, France (2018)
34.
Talk
Segregations at defects and interfaces and their relations to properties. TMS 2018, annual Meeting & Exhibition, Phoenix, AZ, USA (2018)
35.
Talk
Automated calibration of the atom probe tomography reconstructions with electron microscopy images. 7th European Atom Probe Workshop, Gullmarsstrand, Sweden (2017)
36.
Poster
Development of high temperature Mo–Si–B based alloy through Laser Additive Manufacturing. Intermetallics 2017, Bad Staffelstein, Germany (2017)