Equality
Freedom of research is a top priority in our institute as well as in the entire Max Planck Society. This means that the MPI für Eisenforschung welcomes colleagues from a wide range of backgrounds and supports them in their work and career development, tailored to their individual needs.
As an institute for natural sciences, we particularly want to attract female scientists to work at our institute and strengthen their visibility in the scientific community.
Our focus in the area of "equal opportunities" is on developing a gender-equitable work culture that considers diversity in every respect.
In accordance with the Max Planck Society's principles of equal opportunities, we support the diverse life models of our employees. We offer family-friendly working conditions - in particular, we support in the family formation phase wherever possible.
Equal Opportunities
The Equal Opportunities Officer of the MPI für Eisenforschung is in regular dialogue with the management in order to promote a wide range of topics within the framework of equal opportunities.
The focus is on gender justice and gender sensitisation. Gender justice concerns, for example, gender-appropriate monitoring of application procedures or flexibilisation options for childcare/care tasks. Gender sensitisation starts with structural changes and ideally creates a changed awareness for the topic.
In 2019, a gender equality concept has been developed for the first time in cooperation between management and gender equality officer. This identifies concrete fields of action, derives targets and measures from them and consistently monitors actual implementation.
We can already report the following positive developments:
Formation of a working group to promote awareness of gender equality in the field of science
Use of gender-sensitive language at the institute
Career consulting in the form of in-house mentoring
The increase of the proportion of female members of the Advisory Board by 16%.
In 2019, the institute has recruited an outstanding female scientist for the Max Planck Society's newly developed "sign-up!" programme. In addition, we make female scientists more aware of career seminars, which fit their personal needs, whenever possible.
Success in the area of "Career & Family":
Opportunity for all employees to take advantage of our family services
Acquisition of occupancy rights ("KITA-place" for U3) in a large day care centre for the accommodation of small children
Establishment of a parent-child office (opening in spring 2020)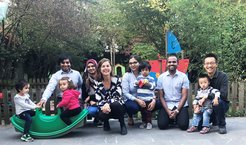 The Equal Opportunities Officer of the Max Planck Society is Dr. Ulla Weber. Equality Page of the Max Planck Society or the Equality Page for members of the Max Planck Society