Microstructure Effects on Hydrogen Embrittlement in Austenitic Steels: A Multidisciplinary Investigation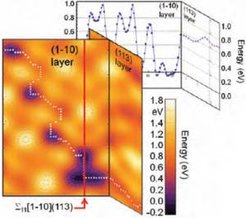 Ceylan Senöz, Stefan Evers, Martin Stratmann, and Michael Rohwerder, "Scanning Kelvin Probe as a highly sensitive tool for detecting hydrogen permeation with high local resolution," Electrochemistry Communucations 13 (12), 1542-1545 (2011).
Stefan Evers and Michael Rohwerder, "The hydrogen electrode in the "dry": A Kelvin probe approach to measuring hydrogen in metals," Electrochemistry Communications 24, 85-88 (2012).
Y. J. A. Du, L. Ismer, J. Rogal, T. Hickel, J. Neugebauer, and R. Drautz, "First-principles study on the interaction of H interstitials with grain boundaries in alpha- and gamma-Fe," Physical Review B 84 (14), 144121-1-144121-13 (2011).
Hydrogen-induced cracking at grain and twin boundaries in an Fe–Mn–C austenitic steel
Scripta Materialia 66 (2012), 459-462