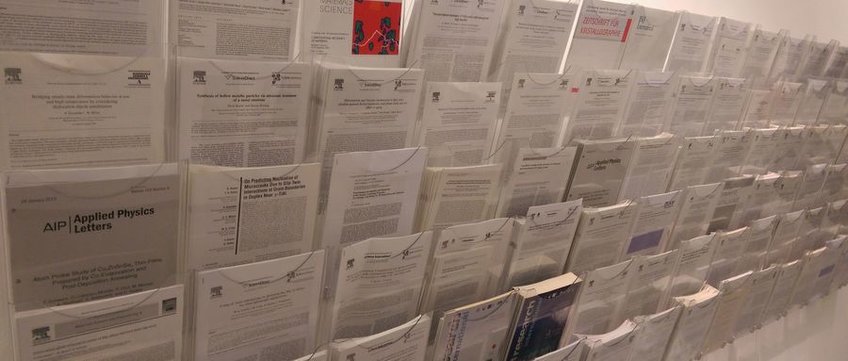 1861.
Conference Paper
Experimental investigation of plastic grain interaction. In: PLASTICITY 2002, pp. 263 - 265 (Eds. Khan, A.S.; Lopez-Pamies, O.). Plasticity, Damage and Fracture at Macro, Micro and Nano Scales, Proc. PLASTICITY '02, Aruba, January 03, 2002 - January 09, 2002. NEAT PRESS, Fulton, MD, USA (2002)
1862.
Conference Paper
On the forming limit diagram, von Mises equivalent strain, strain path, and surface roughness. In: Proc. XXI Verformungskundliches Kolloquium, pp. 156 - 164. Verformungskundliches Kolloquium, Leoben, Austria, 2002. Selbstverlag Montanuniversität Leoben, Leoben, Austria (2002)
1863.
Conference Paper
Evaluation of alloy systems for developing new intermetallic lightweight materials. Int. Conf. on Processing & Manufacturing of Advanced Materials - THERMEC 2000, Las Vegas, NV, USA, December 04, 2000 - December 08, 2000. Journal of Materials Processing Technology
1864.
Conference Paper
Effect of Chemical Composition, Coiling Temperature and Solute Elements on Recrystallization Behaviour of Cold Rolled ULC Steels. In: Recrystallization and Grain Growth (Eds. Gottstein, G.; Molodov, D.). First Joint International Conference on Recrystallization and Grain Growth (ReX&GG), Aachen, Germany, August 27, 2001 - August 31, 2001. Springer, Germany (2001)
1865.
Meeting Abstract
MA2022-01
(47), p. 1983. The Electrochemical Society (2022)
Advances in Cryo-Atom Probe Tomography Studies on Formation of Nanoporous Metals by Dealloying (Digital Presentation). In ECS Meeting Abstracts,
1866.
Talk
Sustainable Metals for a Circular Economy. The Morris E. Fine Lecture at Northwestern University, virtual, Evanston, IL, USA (2022)
1867.
Talk
Field surveys around Kubadabad for iron production sites / Kubadabad ve Çevresinde Demir Üretimine Dair Tespitler. 4th Historical Mining Congress, Izmir, Turkey (2022)
1868.
Talk
Finite strain crystal plasticity-phase field modeling of deformation twinning and dislocation slip interaction in hexagonal materials. 18th European Mechanics of Materials Conference, online, Oxford, UK (2022)
1869.
Talk
Zinc Metallurgy in Urartu: Recent Evidence from Eastern Anatolia. ICASEMME3- 3rd International Congress on Archaeological Sciences in the Eastern Mediterranean, Nicosia, Cyprus (2022)
1870.
Talk
Green Steel Research at the Max Planck Institute. Webinar Green Steel, Arcelor Mittal Brazil, Online (2022)
1871.
Talk
Understanding the physical-chemical phenomena in green steel production using synchrotron X-ray techniques. European Synchrotron Radiation Facility User Meeting 2022, Online (2022)
1872.
Talk
Influence of Strain Rate Sensitivity on Cube Texture Evolution in Aluminium Alloys. International Conference on Strength of Materials (ICSMA) 2022, Metz, France (2022)
1873.
Talk
High Carbon Steel Metallurgy in Medieval Anatolia. Seminar at MPIE, virtual, Düsseldorf, Germany (2021)
1874.
Talk
Historical and Technological Assessment of New Metals in Anatolia: Zinc in Urartian Bronze Alloys. Seminar, Institute of Archaeology, Charles University, online, Prague, Czech Republic (2021)
1875.
Talk
The Science of dirty alloys: recycling-based Aluminium for a circular economyle. The 4th International Conference on Light Materials - Science and Technology, Opening Plenary Lecture (delivered online) (2021)
1876.
Talk
An overview of the state-of-the-art of hydrogen analysis by APT. APT school 2021, online, Rouen, France (2021)
1877.
Talk
Archaeological Traces of High Carbon Steel Metallurgy in Anatolia. The Iranian Highlands: Resiliences and Integration in Premodern Societies, Deutsches Bergbau-Museum Bochum, online, Bochum, Germany (2021)
1878.
Talk
DAMASK: the Düsseldorf Advanced MAterial Simulation Kit for studying multi-field crystal plasticity phenomena. Seminar, Engineering Science Department at the University of Oxford, virtual, Oxford, UK (2021)
1879.
Talk
Moving cracks and missing C atoms – chasing the mysteries of white etching areas in bearings. 2nd meeting of "Metallurgical Metallurgy for Plasticity-driven Damage and Fracture" research forum 2021 (ISIJ), virtual (2021)
1880.
Talk
Understanding phase transformations at boundaries and interfaces in β-Titanium alloys at the near-atomic scale. Conference on Possibilities and Limitations of Quantitative Materials Modeling and Characterization, Bernkastel-Kues, Germany (2021)