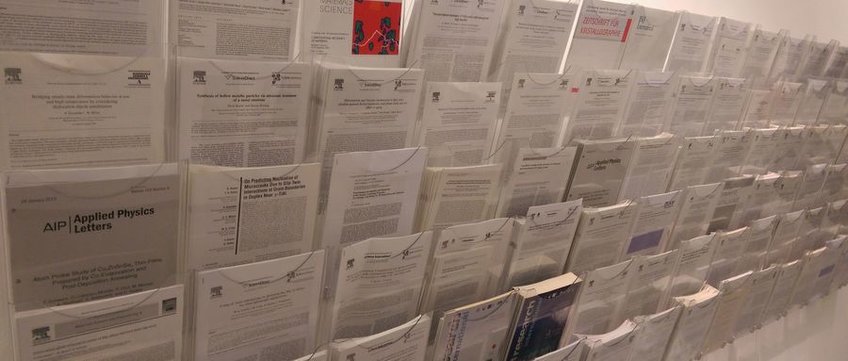 Publications of Joachim Konrad
1.
Journal Article
A Scheil-Gulliver model dedicated to the solidification of steel. CALPHAD: Computer Coupling of Phase Diagrams and Thermochemistry
2.
Journal Article
1-x
Co
2+x
. Zeitschrift für Kristallographie
221(5)
, pp. 319 - 333 (2006)
Preparation, phase stability and structure of the C36 Laves phase Nb
3.
Journal Article
3
Al-binary alloy in the A2 and B2-order regimes. Intermetallics
13
(12), pp. 1304 - 1312 (2005)
Hot deformation behavior of a Fe
4.
Journal Article
13
(12), pp. 1337 - 1342 (2005)
Dependence of the brittle-to-ductile transition temperature (BDTT) on the Al content of Fe–Al alloys. Intermetallics
5.
Journal Article
3Al Cast Alloy by Neutron Scattering. Genf-Experimental Report 2003, pp. 183 - 199 (2004)
Texture Analysis of a Coarse Grained Fe
6.
Journal Article
3
Al base alloys. Materials Science Forum
467-470
, pp. 75 - 80 (2004)
Investigation of nucleation mechanisms of recrystallization in warm rolled Fe
7.
Conference Paper
3
Al Alloy. MRS Fall Meeting Proceedings, Boston, MA, USA, November 30, 2004. Mater. Res. Soc. Symp. Proc.
842
, pp. 41 - 46 (2005)
Thermomechanical Treatment of a Fe
8.
Talk
Structure and disorder of the Laves phases in the Co–Nb system. MRS Fall Meeting 2008, Boston, MA, USA (2008)
9.
Talk
Structures and Homogeneity Ranges of Off-Stoichiometric Laves Phases in the Co–Nb System. High Temperature Materials Chemistry HTMC-XII, Vienna, Austria (2006)
10.
Talk
3Al(Cr, Zr, Nb, C) Alloys During Thermomechanical Treatment. EUROMAT 2005, Prague, Czech Republic (2005)
Phase Formation and Microstructural Analysis of Fe
11.
Talk
3D-Orientation Microscopy in a Combined Focused Ion Beam (FIB) - Scanning Electron Microscope: A New Dimension of Microstructure Characterisation. Microscopy Conference 2005, Davos, Switzerland (2005)
12.
Talk
3Al alloy during thermomechanical treatment. ICOTOM14, Leuven, Belgium (2005)
Texture evolution of a Fe
13.
Talk
3Al based alloy by applying 3D EBSD. DPG Frühjahrstagung, Berlin, Germany (2005)
Investigation of orientation gradients around particles and their influence on particle stimulated nucleation in a hot rolled Fe
14.
Talk
Nb–Co Diffusion Couples with Sequences of Laves Phases Investigated by EBSD. International Workshop "Laves Phases IV", MPI für Eisenforschung, Düsseldorf, Germany (2005)
15.
Talk
Identification of Sequences of Phases by EBSD in Nb–Co Diffusion Couples. COST 535 Diffusion Couple Workshop, MPI für Eisenforschung, Düsseldorf, Germany (2004)
16.
Talk
Investigation of Nucleation Mechanisms of Recrystallization in Warm Rolled Fe3Al Base Alloys. 2nd International Conference on Recrystallization and Grain Growth, Annecy, France (2004)
17.
Talk
3Al Base Alloys. Kolloquium Prof. J.J. Jonas, MPIE, Düsseldorf (2004)
Texture Evolution During Thermomechanial Treatment of Fe
18.
Talk
3Al-based Alloys. Discussion Meeting on the Development of Innovative Iron Aluminium Alloys, MPIE Düsseldorf (2004)
Hot Rolling Behaviour and Plastic Anisotropy of Fe
19.
Talk
Texturentwicklung beim Warmwalzen und bei der Rekristallisation von Fe3Al-Basislegierungen. Sitzung des DFG Fachausschuss Intermetallische Phasen, MPIE, Düsseldorf, Germany (2004)
20.
Talk
Texturentwicklung beim Warmwalzen und bei der Rekristallisation von Fe3Al-Basislegierungen. Treffen des Fachausschusses Intermetallische Phasen, MPI Eisenforschung, Düsseldorf (2004)