High-Entropy Materials (HEMs)
The goal of our group is to develop advanced high-entropy materials (HEMs) with exceptional mechanical and multi-functional properties based on the understanding of their structure-properties relations. This is being achieved by combining advanced design strategies and experimental techniques.
Over the past centuries, conventional alloy design has been constrained by the concept of one or two prevalent base elements. As a breakthrough of this restriction, the concepts of high-entropy alloys (HEAs) open a new realm of numerous opportunities for investigations in the huge unexplored compositional space.
The concept of high-entropy alloys and their exceptional properties have been also extended to other forms of organic–inorganic high-entropy materials (HEMs), for instance, high-entropy ceramics, high-entropy polymers, with the potential for interesting function properties.
As a typical example shown in Figure 1, to highlight the good combination of mechanical and magnetic properties of our multicomponent alloy (M-MCA), we compare it with the existing soft magnetic materials (SMMs) showing the ultimate tensile strength (σUTS) × elongation at fracture (εf) values against the intrinsic coercivity (Hc).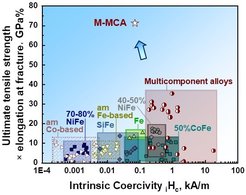 Our research group (High-Entropy Materials) conducts research work by combining novel materials design methods (e.g., artificial intelligence, high-throughput screening, text mining, and thermodynamic guided) and state-of-the-art experimental-theoretical methodologies (e.g., EBSD, ECCI, FIB-APT, TEM, KERR, AFM/MFM, PPMS, Calphad, and DFT) in the following specific aspects:
Exceptional strength-ductility combination of HEMs;
Advanced HEMs for harsh environments and long life time;
High performance magnetic HEMs;
Artificial intelligence-aided HEMs design;
Advanced characterization of HEMs;
Sustainable, durable, recyclable and low-cost HEMs;
These aspects are strongly interconnected and facilitate an extensive collaboration network with national and international experts.
Press release