William Bonfield Prize for Frank Stein and Andreas Leineweber
Materials scientists awarded for best review paper 2021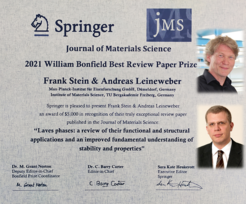 The Journal of Materials Science awarded Dr. Frank Stein, group leader at the Max-Planck-Institut für Eisenforschung, and Prof. Andreas Leineweber, group head at the TU Bergakademie Freiberg, the William Bonfield Best Review Paper Prize for their article on Laves phases. Prof. Bonfield himself selected the awarded publication from over 100 review articles published in the journal in 2021. The prize is endowed with 5,000$ and recognizes distinctive review papers and their important contribution to the journal and materials science community.
"We started to work on this very important class of materials already 15 years ago and the publication now awarded is an attempt not only to summarize our own results but to provide a comprehensive overview of this special type of intermetallic phases", says Stein. The authors focus on non-ideal Laves phases and review, on the one hand, progress in the fundamental understanding of their properties and, on the other hand, their application as functional and structural materials. Although Laves phases have been known for almost 100 years, Stein and Leineweber were able to highlight their relevance for diverse types of applications including up to date topics such as their application as hydrogen storage materials. The authors have evaluated over 1100 references, paving the way for those who plan to begin their research on this class of materials.
The prize gained its name from Prof. William Bonfield who is emeritus professor of medical materials at the University of Cambridge and expert for biomaterials and medical implants. Bonfield was editor-in-chief of the Journal of Materials Science from 1973-2002 and helped broadening the scope of the journal from metallurgy to materials science.
Awarded publication (open access)
Frank Stein and Andreas Leineweber, "Laves phases: a review of their functional and structural applications and an improved fundamental understanding of stability and properties," Journal of Materials Science 56, 5321-5427 (2021).