Electric double layers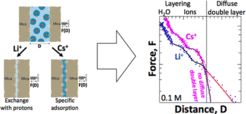 Theodoros Baimpos, Buddha Ratna Shrestha, Sangeetha Raman, and Markus Valtiner, "Effect of interfacial ion structuring on range and magnitude of electric double layer, hydration, and adhesive interactions between mica surfaces in 0.05-3 M Li+ and Cs+ electrolyte solutions," Langmuir 30, 4322-4332 (2014).
Markus Valtiner, Kai Kristiansen, George Wren Greene, and Jacob N. Israelachvili, "Effect of surface roughness and electrostatic surface potentials on forces between dissimilar surfaces in aqueous solution," Advanced Materials 23 (20), 2294-2299 (2011).
M. Valtiner, X. Banquy, K. Kristiansen, G. W. Greene, and J. N. Israelachvili, "The Electrochemical Surface Forces Apparatus: The Effect of Surface Roughness, Electrostatic Surface Potentials, and Anodic Oxide Growth on Interaction Forces, and Friction between Dissimilar Surfaces in Aqueous Solutions," Langmuir 28 (36), 13080-13093 (2012).
Buddha R. Shrestha, Theodoros Baimpos, Sangeetha Raman, and Markus Valtiner, "Angstrom-resolved real-time dissection of electrochemically active noble metal interfaces," ACS Nano 8 (6), 5979-5987 (2014).