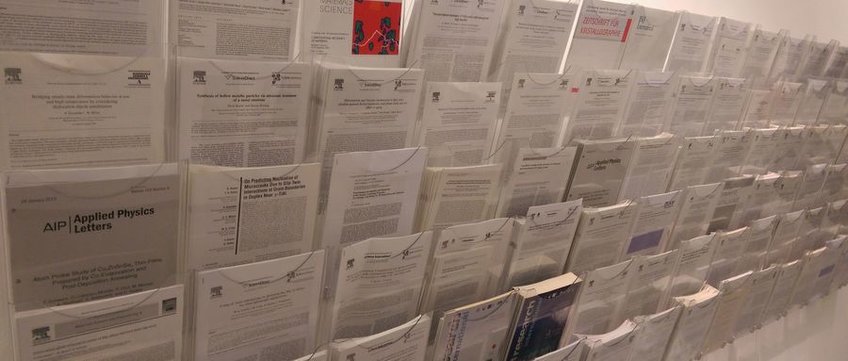 Publications of Hsiu-Wei Cheng
1.
Journal Article
In Situ Mechanical Analysis of the Nanoscopic Solid Electrolyte Interphase on Anodes of Li-Ion Batteries. Advanced Science
2.
Journal Article
Optimizing multiple beam interferometryin the surface forces apparatus: Novel optics, reflection mode modeling, metal layerthicknesses, birefringence, and rotationof anisotropic layers. Review of Scientific Instruments
3.
Journal Article
34
(8), pp. 2637 - 2646 (2018)
Effect of Concentration on the Interfacial and Bulk Structure of Ionic Liquids in Aqueous Solution. Langmuir
4.
Journal Article
9
(3), pp. 577 - 582 (2018)
Interfacial Layering and Screening Behavior of Glyme-Based Lithium Electrolytes. The Journal of Physical Chemistry Letters
5.
Journal Article
18
(21), pp. 3056 - 3065 (2017)
Anion Layering and Steric Hydration Repulsion on Positively Charged Surfaces in Aqueous Electrolytes. ChemPhysChem
6.
Journal Article
114
(36), pp. 9541 - 9546 (2017)
In situ nano- to microscopic imaging and growth mechanism of electrochemical dissolution (e.g., corrosion) of a confined metal surface. Proceedings of the National Academy of Sciences of the United States of America
7.
Journal Article
9
(33), pp. 28027 - 28033 (2017)
Interaction Forces between Pegylated Star-Shaped Polymers at Mica Surfaces. ACS Applied Materials and Interfaces
8.
Journal Article
Lithium-ion battery electrolyte mobility at nano-confined graphene interfaces. Nature Communications
9.
Journal Article
The Effect of Water and Confinement on Self-Assembly of Imidazolium Based Ionic Liquids at Mica Interfaces. Scientific Reports
10.
Journal Article
Characterizing the Influence of Water on Charging and Layering at Electrified Ionic-Liquid/Solid Interfaces. Advanced Materials Interfaces
11.
Journal Article
Elucidating the structure of solid/electrolyte interfaces - Force probe experiments at hydrophilic, hydrophobic and electrified aqueous as well as ionic liquid|electrode interfaces. Bunsenmagazin
12.
Journal Article
Using a Surface-Forces-Apparatus to measure force distance profiles across confined ionic liquids. Application Note – Spectrographs (Andor) (2014)
13.
Thesis - PhD
Probing the Solid/Liquid Interfacial Structure of Ionic Liquids and Battery Fluids by Surface Force Measurements: Influence of water, ions and surface chemistry in interfacial structuring. Dissertation, Ruhr-Universität Bochum, Bochum, Germany (2017)