Anna Shelyug awarded by Humboldt Foundation
She joins MPIE to work on the sustainable synthesis of materials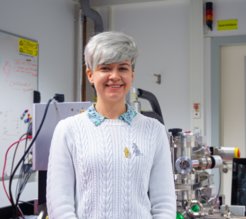 The Alexander von Humboldt Foundation awarded Dr. Anna Shelyug, postdoctoral researcher at the Institute of Solid-State Chemistry, Russia, with a scholarship of the Henriette Herz scouting program. The program comprises mobility grants for excellent foreign researchers enabling a research stay of two years in a German research institution. Shelyug is the second of three Henriette Herz awardees who joined the Max-Planck-Institut für Eisenforschung (MPIE).
In her early career, Shelyug analyzed rare-earth elements and precious metals. She completed her PhD at the University of California-Davis, where she employed thermodynamics to investigate the stability of materials relevant to fuel cycle. Her postdoctoral studies focused on the fundamentals of phase transformations in transition metal compounds: "I gained a lot of insights and experiences throughout my career, but I was always interested in the analysis of materials relevant to sustainable energy. Be it refractory ceramics, metals or metal-ceramic composites. I am really excited to continue this line of research here at MPIE and explore the density of research centers and possible collaborations in Germany" says Shelyug. She joined the "Sustainable Synthesis of Materials" group and will apply her expertise to understand the fundamentals of nickel containing compounds behavior under hydrogen plasma conditions. Specifically, for the purpose of nickel extraction from natural sources and recycled material.
The Henriette Herz scouting program was established by the Alexander von Humboldt Foundation. It enables selected professors and group leaders to recruit three postdoctoral scientists of their choice to join their research institution for two years, fully funded by the program. Prof. Dierk Raabe, director at MPIE, and Dr. Baptiste Gault, research group leader at MPIE, were selected as so-called Humboldt scouts and are able to recruit three foreign researchers. Till now, Shelyug is the second researcher who was selected by Raabe and joined MPIE.