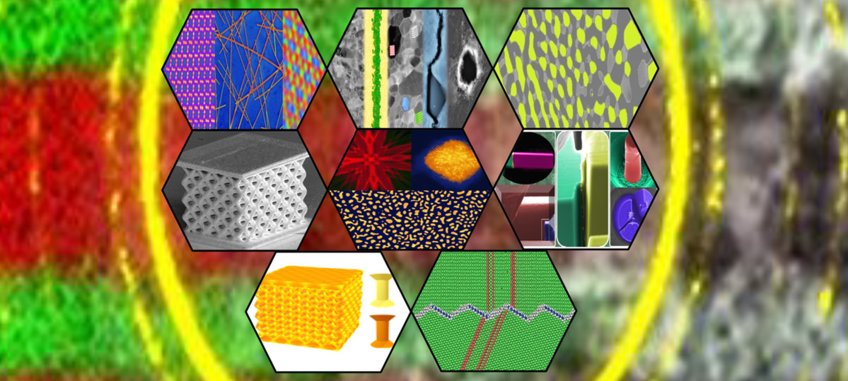 21.
Journal Article
62
(1), pp. 225 - 238 (2014)
Microshear deformation of gold single crystals. Acta Materialia
22.
Journal Article
20
(1), pp. 27 - 34 (2014)
Temperature Effect on Twin Formation Kinetics and Deformation Behavior of Fe–18Mn-0.6C TWIP Steel. Metals and Materials International
23.
Journal Article
20
(1), pp. 41 - 47 (2014)
Effect of Deformation Induced Transformation of ε-Martensite on Ductility Enhancement in a Fe–12 Mn Steel at Cryogenic Temperatures. Metals and Materials International
24.
Book Chapter
Laue Microdiffraction at the ESRF. In: Strain and Dislocation Gradients from Diffraction: Spatially-Resolved Local Structure and Defects, 5, pp. 156 - 204 (Eds. Barabash, R.; Ice, G.). Imperial College Press, London, UK (2014)
25.
Conference Paper
56.7
Ni
10
Si
33.3
. In: IEEE Transactions on Magnetics, Vol.
50
, 2003404. Published by the Institute of Electrical and Electronics Engineers for the Magnetics Group, New York, NY (2014)
Magnetic Properties of Fe
26.
Talk
Small Scale Mechanical Testing: More than just a fashionably tool?! Kolloquium für Mechanik, KIT, Karlsruhe, Germany (2014)
27.
Talk
Differences in deformation behavior of Cu structures containing individual grain boundaries. Symposium RR: Scaling Effects in Plasticity - Synergy between Simulations and Experiments, Fall MRS, Boston, MA, USA (2014)
28.
Talk
"What can we learn from X-ray µLaue diffraction and where do we need to be careful?". Seminar Talk at Helmholtz-Zentrum Geesthacht, Geesthacht, Germany (2014)
29.
Talk
Investigation of Fe–Al Based in situ Composites with Fine Lamellar Eutectoid Microstructure. MRS Fall Meeting 2014 , Boston, MA, USA (2014)
30.
Talk
Composition Dependence of the c/a Ratio of Hexagonal Laves Phases. MRS Fall Meeting 2014, Boston, MA, USA (2014)
31.
Talk
XRD analysis towards crystallization in metallic glasses and its consequences in corrosion properties. Summer School: Theory and practice of modern powder diffraction, Ellwangen, Germany (2014)
32.
Talk
Bridging the gap between electrochemistry and microscopy: electrochemical IL-TEM and in-situ electrochemical TEM study. 2nd Conference on in In-situ and Correlative Electron Microscopy, Saarbrücken, Germany (2014)
33.
Talk
Local diffraction techniques to probe residual strains/stresses in materials. Theorie and Practice of Modern X-Ray Diffraction, Summer School, Ellwangen, Germany (2014)
34.
Talk
In-situ stress measurements in thin films using synchrotron diffraction. Summer School: Theory and Practice of Modern Powder Diffraction, Tagungshaus Schönenberg, Ellwangen, Ellwangen, Germany (2014)
35.
Talk
Oxidation Behaviour of Binary Iron Aluminides with Fine-scaled, Lamellar Microstructure. MS&T 2014 , Pittsburgh, PA, USA (2014)
36.
Talk
Nanotribology: Wear Mechanisms in Austenite. Materials Science and Engineering-MSE 2014, Darmstadt, Germany (2014)
37.
Talk
In situ micromechanics: An overview on synchrotron based µLaue experiments. XTOP 2014, Villard de Lans, France (2014)
38.
Talk
Mechanical behavior of nanolayered thin films: Interface control. 3rd General Meeting of the GDRi CNRS "Mechanics of Nano-objects", Empa, Thun, Switzerland (2014)
39.
Talk
The Usefulness and Applicability of the Alkemade Theorem for the Determination of Ternary Phase Diagrams with Intermetallic Phases. TOFA 2014 – 14th Discussion Meeting on Thermodynamics of Alloys, Brno, Czech Republic (2014)
40.
Talk
New insights into the plasticity of micron sized objects by in situ µLaue diffraction. Lecture at Universität Münster, Münster, Germany (2014)