Humboldt foundation awards Raymond Kwesi Nutor
Nutor joins MPIE to design recycled and sustainable new alloys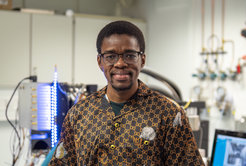 Dr. Raymond Kwesi Nutor has been awarded with a scholarship of the Henriette Herz program by the Alexander von Humboldt Foundation. Nutor studied material engineering in Ghana, then obtained a PhD in materials science at the Zhejiang University, China, where he also worked as a postdoctoral researcher before joining the Max-Planck-Institut für Eisenforschung (MPIE). The program grants excellent scientists from under-represented groups with a two-year research stay at a research institution in Germany..
"I am really happy to welcome Raymond into our group. He strikes me as an excellent researcher, highly motivated to tackle extremely important questions and with an expertise that nicely complements that of our group members," says Prof. Baptiste Gault, head of the group "Atom Probe Tomography". In the coming thirty years an estimated 100 million tons of aluminum alloys and solar photovoltaics will reach their end of life and will be disposed of in landfills. This will mean a huge imbalance in the metallurgic sector and waste of once energy-intensive produced material. Waste that causes huge problems in light of the climate change and energy crisis.
Searching for a possible alternative, Nutor proposes recycling the waste materials, combining the aluminum with silicon from photovoltaics to create aluminum-silicon alloys in an approach that is more sustainable than usual: "Bringing aluminum and silicon together creates light-weight and high-strength alloys used for example in the automotive industry. The problem in finding a recycling design route is that both aluminum scrap and photovoltaics are contaminated with transition metals and other external elements. All these elements can influence the microstructure of the alloy leading to completely unwanted features. But how do we create alloys in such a way that they become more resistant to impurities and in the best case offer the same properties as primary synthesized alloys? Based on these questions, I aim to create a design concept using atom probe tomography and mechanical testing informed by thermodynamic calculations", explains Nutor.
The Henriette Herz program was recently established by the Alexander von Humboldt Foundation. It enables selected professors and group leaders to recruit three postdoctoral scientists of their choice to join their research institution fully funded by the program. Prof. Dierk Raabe, director at MPIE, and Prof. Baptiste Gault, research group leader at MPIE, were selected as so-called Humboldt scouts and are able to recruit three foreign researchers each.