German Research Foundation supports MPIE research marketing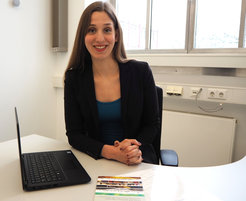 Sophia Zwaka, head of the International Office at the Max-Planck-Institut für Eisenforschung (MPIE), is being supported by the German Research Foundation (DFG) with 25,000 euros. Her concept, "Coffee with Max Planck: Research Opportunities at the MPIE", has won the marketing competition along with seven other concepts.
Zwaka's idea is based on directly addressing excellent international young researchers. An MPIE team will hold guest events at seven different top European universities and present the institute and its research. At each event a "Travel Award" of 1000 euros will be offered to enable outstanding doctoral candidates to present their research at the MPIE. The aim is to increase the visibility of the institute among young researchers in Europe.
The DFG competition is part of the "Research in Germany" initiative, which is funded by the Federal Ministry of Education and Research. The aim is to make Germany better known as an innovative research location. The prizes will be awarded on 19 May in Berlin.