Cyclic plasticity and constitutive modeling of transformation assisted interstitial high-entropy alloys
Understanding the cyclic plasticity behavior is crucial for the future safety application of high-entropy alloys (HEAs). However, few related studies have been conducted so far, especially that involving the ratchetting effect resulting from unsymmetrical stress-controlled cyclic loading. In this project, we perform macro-/microscopic experiments and constitutive modelling to investigate the effects of stress amplitude and mean stress on the ratchetting strain and the overall cyclic behavior of interstitial high-entropy alloys (iHEAs) which show the join activation of phase transformation and mechanical twinning upon strain loading.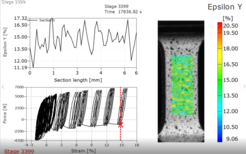 The macroscopic mechanical behavior of a typical iHEA with a nominal composition of Fe49.5Mn30Co10Cr10C0.5 (at. %) was examined under cyclic loading by using a MTS 809 axial/torsional testing system, and the local strain distribution upon deformation was determined by digital image correlation (DIC) method using Aramis system (GOM GmbH). Two different loading sequences, i.e., step-by-step increasing stress amplitude while keeping non-zero mean stress and step-by-step increasing mean stress while keeping stress amplitude, were employed during the cyclic loading of the iHEA samples.
We aim to establish a constitutive model to predict the cyclic plastic behavior of HEAs with multiple deformation mechanisms. Currently, a phenomenological cyclic plasticity model, in which kinematic hardening is described by Ohno-Wang-Armstrong-Frederick law, has been initiated to predict the ratchetting behavior by considering the effects of stress amplitude and mean stress.