Comprehensive review article about Laves phases published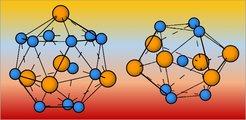 Frank Stein, head of the group "Intermetallic Materials" at the Max-Planck-Institut für Eisenforschung, and Andreas Leineweber, professor at the Technical University Freiberg, published a review article about Laves phases in the Journal of Materials Science.
The scientists summarize the state of the art knowledge about selected topics focussing on non-ideal Laves phases. Moreover, they give a systematic overview about the role of Laves phases in different materials for functional and structural applications.
Learn more about Laves phases as hydrogen storage materials, magneto-mechanical sensors and corrosion-resistant coatings:
Laves phases: a review of their functional and structural applications and an improved fundamental understanding of stability and properties
Journal of Materials Science, volume 56, pages 5321–5427(2021)