Dr. Lamya Abdellaoui joins the organization team of the "Virtual International Thermoelectric Conference 2020"
Dr. Lamya Abdellaoui, postdoctoral researcher in the group "Nanoanalytics and Interfaces", was selected as member of the European organization team of the "Virtual Thermoelectric Conference 2020" (VCT 2020). The organization team of this conference is splitted up into subdivisions coming from Europe, USA and Asia. Together they are connecting the thermoelectric scientific communities all over the world. The VCT 2020 will be held online from 21 – 23 July 2020.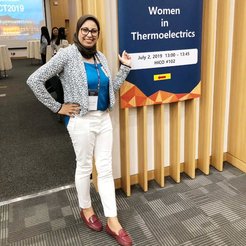 Abdellaoui is the only team member from Germany. She finished her PhD in 2019 at the Max-Planck-Institut für Eisenforschung in the field of thermoelectrics and is now focusing on improving further thermoelectric materials for applications e.g. in automotive engineering, aerospace and medical technology.
The "International Conference on Thermoelectrics", now VCT 2020, is the biggest conference on thermoelectrics taking place every year on a different continent. This year it was supposed to be held in Seattle, USA. Due to the measurements taken to constrain the COVID-19 pandemic, the conference will be held online, allowing international scientists to share their latest research results.