First prize for Rasa Changizi at the image competition of the "Microscopy Conference 2019"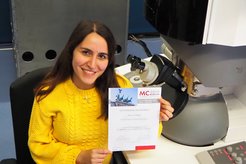 Rasa Changizi, PhD student in the group "Nanoanalytics and Interfaces", has won the first prize in the "Arts in Science" image competition at the "Microscopy Conference 2019" (MC) in Berlin. Rasa Changizi presented her research results at the conference and took part in the scientific image competition with her image "Battle of Oxides".
The image taken with a transmission electron microscope shows potassium calcium niobium oxide particles. These particles serve as semiconductor hosts for lanthanides, which are used for displays due to their luminescence properties.
The MC is an annually organized conference of the German Society for Electron Microscopy. The conference promotes the exchange of world-renowned scientists from the fields of instrumentation and methods, materials science and life sciences.