Strengthening cooperation
Max Planck- and Fraunhofer Society support joint training projects
On September 24, the Max Planck Society (MPS) and the Fraunhofer-Gesellschaft (FHG) invited representatives of politics and industry to a barbecue reception in Berlin. The two presidents, Prof. Martin Stratmann (MPS) and Prof. Reimund Neugebauer (FHG), welcomed about 250 guests and presented joint projects.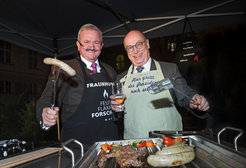 For the first time, a group of trainees from both research societies presented their joint project. The apprentices developed a high-tech grill 4.0, which is the result of a cooperation project of the Max-Planck-Institut für Eisenforschung (MPIE) and the Fraunhofer Institute for Machine Tools and Forming Technology (IWU). The two presidents tested the newly developed grill during the barbecue event. The two apprentices of the Fraunhofer Institute were responsible for the electrical functions and also for the frame and cladding of the grill. The MPIE apprentices made the grill grid, the slide-in module, barbecue utensils and accessories. Coal served as the fuel for the grill, pointing out the origin of grilling. The trainees from both institutes refined the grill with various high-tech functions for energy efficiency: an electrically adjustable carbon grill for temperature control, an electric fan to support the ignition process and a sophisticated chimney effect for optimized ignition behaviour. In order to make grilling as precise as possible, the temperature of the heating zones is monitored electronically on an app via bluetooth.
The two research socities have been cooperating for years in numerous projects to combine basic research with applied science. The ZellMos project, for example, is under the supervision of the two project managers Joachim Spatz (MPI for Medical Research) and Holger Vogt (FhI for Microelectronic Circuits and Systems). The aim of the project is to develop a cell chip - a human-machine interface that constantly collects data, transmits it to a sensor and stimulates the cells. In medical terms, this method would be used in the field of epilepsy or Parkinson's disease and as an implant.