Iron research meets art
3D printing in a time capsule – under an 8 metre high and 14 tons heavy steel sculpture in the middle of a roundabout in Haan-Ost, researchers of the Max-Planck-Institut für Eisenforschung (MPIE) participated in an art project by steel artist Michael Schrader. "To add such a modern object, produced with completely new technologies, to an art project made of traditional steel, creates a whole new level of meaning for the topic of encounter. Here steel art encounters highly modern materials and the latest technology in a fascinating way […].", says Schrader, who often dedicates his projects to the theme of "Encounter". The "object" the steel artist refers to is a sample holder with two adjacent "coins", which were 3D printed at the MPIE. The "coins" together represent the logo of the institute. Furthermore, the left "coin" shows the Minerva, the Greek Goddess of wisdom that serves as logo of the Max Planck Society. The right "coin" shows mallets and iron as a symbol for the mining industry and the steel institute VDEh. Both organisations are shareholders of the MPIE, making it unique among the over 80 institutes of the Max Planck Society. During the process of additive manufacturing, meaning the 3D printing of metals, a laser beam passes through a layer of metal powder. The powder melts and solidifies within seconds. A brush applies new powder and the laser beam passes over the same areas again, so that the component is formed layer by layer. Next to the contribution by the MPIE, the time capsule also contains current issues of regional and national newspapers as well as documents about current events in Haan. It is buried under the steel sculpture in the middle of the roundabout in Haan.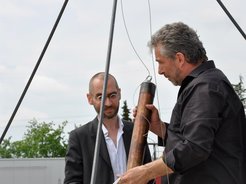 An international team of scientists at the Max Planck Institute aims at developing new alloys for additive manufacturing. Thus, new components with complex shapes can already be produced today e.g. for application in industrial plants, but also in medical technology, where implants can be manufactured individually for the individual patients with the help of 3D printing. Additive manufacturing is only one of many, completely diverse topics which the Max Planck scientists research. From alloys for lightweight automotive construction and aircraft turbines, to materials for sustainable energy generation and storage, to the development of big data and machine learning methods - all these are research areas that the team of engineers, materials scientists, physicists and chemists from over 35 countries are involved in.