Career Talk with the ThyssenKrupp Steel Europe AG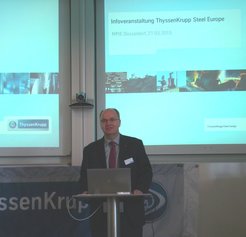 The first informative event about career perspectives in industry for Max Planck scientists took place on Friday, 27th March 2015. At this kick off meeting the ThyssenKrupp Steel Europe AG presented itself as a worldwide leading steel producer and an important employer in the Ruhr area. Moreover, the trainee programme and the transfer programme as possibilities to enter ThyssenKrupp were shown. Former MPIE scientists who now work at ThyssenKrupp showed their career path and provided the students and post docs of the MPIE with advice concerning application strategies and possible fields of work.
This event is part of a new series of one-day events on career perspectives of Max Planck scientists. The series is organized by the PhD representatives of the MPIE. More company presentations as well as job application trainings and funding possibilities for industry as well as for an academic career will follow. The intention of these events is to bring together leading experts from industry and the MPIE students to have in depth discussions about career possibilities after the time at the MPIE.