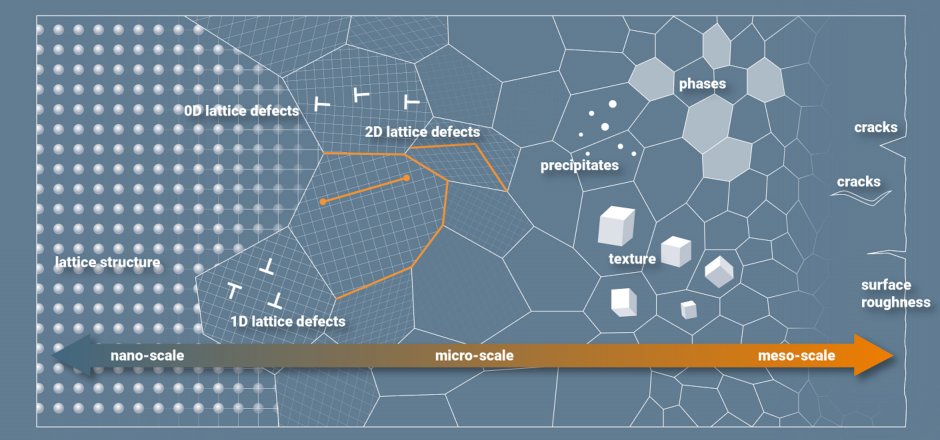 Suchergebnisse
1.
Zeitschriftenartikel
On the origin of creep dislocations in a Ni-base, single-crystal superalloy: an ECCI, EBSD, and dislocation dynamics-based study. Acta Materialia
2.
Zeitschriftenartikel
48
(3), S. 797 - 813 (2015)
Error analysis of the crystal orientations and disorientations obtained by the classical electron backscatter diffraction technique. Journal of Applied Crystallography
3.
Zeitschriftenartikel
168
(6), S. 1 - 21 (2014)
Localization of submicron inclusion re-equilibration at healed fractures in host garnet. Contributions to Mineralogy and Petrology
4.
Zeitschriftenartikel
Kikuchi bandlet method for the accurate deconvolution and localization of Kikuchi bands in Kikuchi diffraction patterns. Journal of Applied Crystallography
5.
Konferenzbeitrag
Kikuchi bandlet method: A method for accurate Kikuchi band intensity analysis in EBSD patterns. In: emc2012 proceedings (CD-ROM). EMC 2012 - The 15th European Microscopy Congress, Manchester, UK, 16. September 2012 - 21. September 2012. (2012)
6.
Vortrag
Using orientation microscopy to explore the correlation of materials properties and microstructures. 25th International conference on materials and technology, Portorož, Slovenia (2017)
7.
Vortrag
Dislocations, grain boundaries and strain fields observed on bulk samples: high resolution defect analysis by scanning electron microscopy-based diffraction techniques. ICOTOM 17; invited plenary, Dresden, Germany (2015)
8.
Vortrag
Investigations of dislocation structures in a Ni-based single crystal superalloy using Electron Channeling Contrast Imaging (ECCI) and cross-correlation EBSD. RMS EBSD, Glasgow, Scotland, UK (2015)
9.
Vortrag
Have we resorted to red herrings to justify our hasty generalizations in materials science? PhD Science Slam, VISIONS IN SCIENCE, Berlin, Germany (2014)
10.
Vortrag
Kikuchi Band Sharpness: A Measure for the Density of the Crystal Lattice Defects. MSE 2014, Darmstadt, Germany (2014)
11.
Vortrag
Accurate Kikuchi band localization and its application for diffraction geometry determination. HR-EBSD workshop, Imperial College, London, UK (2014)
12.
Vortrag
Plastic strain derivation and Kikuchi band localization by applying the Kikuchi bandlet method to electron backscatter Kikuchi Diffraction patterns. 17th ICOTOM, Dresden; Germany (2014)
13.
Vortrag
The Kikuchi bandlet method: Application to plastic and elastic strain measurements. MSA EBSD 2014, Pittsburgh, USA (2014)
14.
Vortrag
Observation of geometrically necessary dislocation arrangements at individual grain boundaries deformed in constraint micro bending tests. GDRi CNRS MECANO General Meeting on the Mechanics of Nano-Objects, MPIE, Düsseldorf, Germany (2013)
15.
Vortrag
Electron Diffraction in Scanning Electron Microscope and its applications. Institut für Werkstofftechnik, Helmut Schmidt Universität, Hamburg, Germany (2012)
16.
Vortrag
EBSD projection centre's importance and available methods for resolving it! Seminar Talk at Arbeitskreis EBSD in Garbsen, Garbsen, Germany (2012)
17.
Vortrag
Kikuchi Bandlet Method: A Method to Resolve the Source Point Position of an EBSD Pattern. EBSD 2012, London, UK (2012)
18.
Vortrag
Kikuchi Bandlet Method: A Method to Resolve the Source Point Position of an EBSD Pattern. 20th Annual meeting of the German Crystallographic Society, München, Germany (2012)
19.
Poster
Error Analysis of the Crystal Orientations and Misorientations obtained by the Classical Electron Backscatter Diffraction Method. IMC 2014, Prague, Czech Republic (2014)
20.
Poster
Error Analysis of the Crystal Orientations and Misorientations obtained by the Classical Electron Backscatter Diffraction Method. MSE 2014, Darmstadt, Germny (2014)