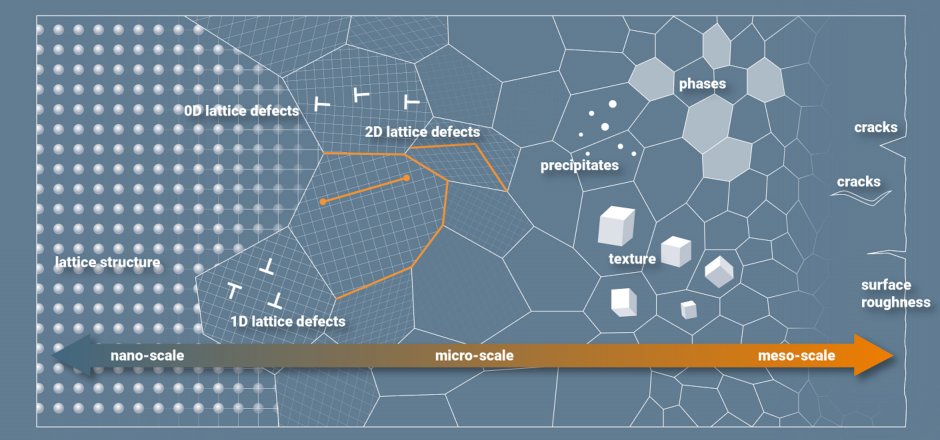 Suchergebnisse
1.
Zeitschriftenartikel
Ultrastrong lightweight compositionally complex steels via dual-nanoprecipitation. Science Advances
2.
Zeitschriftenartikel
Reversion and re-aging of a peak aged Al–Zn–Mg–Cu alloy. Scripta Materialia
3.
Zeitschriftenartikel
51
, S. 5517 - 5586 (2020)
Current Challenges and Opportunities in Microstructure-Related Properties of Advanced High-Strength Steels. Metallurgical and Materials Transactions A 50th Anniversary Collection
4.
Zeitschriftenartikel
High-rate superplasticity in an equiatomic medium-entropy VCoNi alloy enabled through dynamic recrystallization of a duplex microstructure of ordered phases. Acta Materialia
5.
Zeitschriftenartikel
3
Zr dispersoids assisted η′ precipitation in an Al–Zn–Mg–Cu–Zr alloy. Materialia
10
, 100641 (2020)
(Al, Zn)
6.
Zeitschriftenartikel
Chemical boundary engineering: A new route toward lean, ultrastrong yet ductile steels. Science Advances
7.
Zeitschriftenartikel
Could face-centered cubic titanium in cold-rolled commercially-pure titanium only be a Ti-hydride? Scripta Materialia
8.
Zeitschriftenartikel
Interplay of Chemistry and Faceting at Grain Boundaries in a Model Al Alloy. Physical Review Letters
9.
Zeitschriftenartikel
Dependence of hydrogen embrittlement mechanisms on microstructure-driven hydrogen distribution in medium Mn steels. Acta Materialia
10.
Zeitschriftenartikel
Unveiling the mechanism of abnormal magnetic behavior of FeNiCoMnCu high-entropy alloys through a joint experimental - theoretical study. Physical Review Materials
11.
Zeitschriftenartikel
Beyond Solid Solution High‐Entropy Alloys: Tailoring Magnetic Properties via Spinodal Decomposition. Advanced Functional Materials (2007668), 2007668 (2020)
12.
Zeitschriftenartikel
Macroscopic to nanoscopic in situ investigation on yielding mechanisms in ultrafine grained medium Mn steels: Role of the austenite-ferrite interface. Acta Materialia
13.
Zeitschriftenartikel
Experimental and numerical study of mechanical properties of multi-phase medium-Mn TWIP-TRIP steel: Influences of strain rate and phase constituents. Acta Materialia
14.
Zeitschriftenartikel
Invar effects in FeNiCo medium entropy alloys: From an Invar treasure map to alloy design. Intermetallics
15.
Zeitschriftenartikel
Quantification of solute deuterium in titanium deuteride by atom probe tomography with both laser pulsing and high-voltage pulsing: influence of the surface electric field. New Journal of Physics
16.
Zeitschriftenartikel
Strain hardening mechanisms during cold rolling of a high-Mn steel: Interplay between submicron defects and microtexture. Materials Science and Engineering A: Structural Materials Properties Microstructure and Processing
17.
Zeitschriftenartikel
Thermodynamics of grain boundary segregation, interfacial spinodal and their relevance for nucleation during solid-solid phase transitions. Acta Materialia
18.
Zeitschriftenartikel
44
(4), S. 266 - 272 (2019)
Metastability alloy design. MRS Bulletin
19.
Zeitschriftenartikel
Atomic-scale investigation of hydrogen distribution in a Ti–Mo alloy. Scripta Materialia
20.
Zeitschriftenartikel
Improving the ductility of ultrahigh-strength medium Mn steels via introducing pre-existed austenite acting as a "reservoir" for Mn atoms. Materials Science and Engineering A: Structural Materials Properties Microstructure and Processing