IMPRS SusMet Workshop on
Research Data Management
22 September 2023
Max-Planck-Institut für Eisenforschung
This workshop aims to provide a solid basis on the most important aspects of research data management (RDM) as well as to give an overview of existing tools.
The focus is on the direct applicability of RDM strategies and tools and on discussing various approaches to RDM. The school primarily addresses the PhD candidates of the IMPRS SusMet but is open to all, and PIs, RDM-responsible, and group leaders are welcome to join the event!
The Workshop will combine lectures with live demonstrations by internal and external experts and lots of discussions, with a focus on if and how to best include aspects of research data management into your personal day-to-day life as a researcher. Please bring your notebooks for hands-on sessions.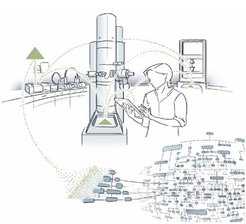 Topics will include, but are not limited to:
making data FAIR;
data management plans;
data formats for archiving;
data publication and repositories;
best practices for data organization, naming conventions and documentation;
software development in the academic context;
controlled vocabularies;
presentation of tools, including Electronic Lab Notebooks.
RDM tools presented:
Metadata Tools of Max Planck Computing and Data Facility (MPCDF)
pyiron, Jan Janßen, MPI für Eisenforschung
openBIS, Niklas Siemer, MPI für Eisenforschung
eLabFTW, Christian Liebscher, MPI für Eisenforschung
PASTA, Steffen Brinckmann, Forschungszentrum Jülich
Coscine, Katja Jansen und Amirreza Moghaddam, RWTH Aachen
Agenda: