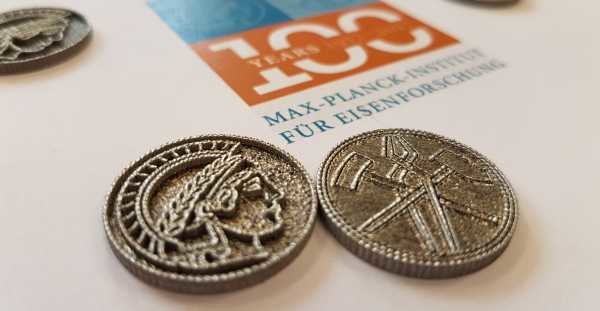 Additive Manufacturing and Powder Synthesis Laboratory
In the group "Alloys for Additive Manufacturing", we perform research to develop alloys that are suitable for use in AM. This can mean that they are resistant to typical processing-induced defects such as hot tearing. It can also mean that they exploit particular characteristics of the AM process. The three features of AM that our group focusses on are:
the high cooling rates of up to 106 Ks -1 after deposition,
the powder-technological nature of the process and
the possible metal-gas interactions occurring during material build-up.
To investigate the impact of these features and to be able to develop new alloys, we aim to cover the entire process chain of additive manufacturing in-house. This starts with the design of alloys using thermodynamic databases, in particular using the software Thermocalc. Next, the alloys of interest are cast in rod shape by the the Combinatorial Metallurgy and Processing group. We have designed and built a lab-scale gas atomizer that enables us to produce small batches of powder from the cast rods. The powder is then used in our Aconity 3D "Mini" Selective Laser Melting (SLM) research machine to produce specimens which are analysed with the Institute's extensive testing and characterization facilities. We also pursue two other alloy development routes. In the first screening stage, small coupons are produced by arc melting and re-melted in the SLM machine. In the second, the alloy is generated during the process by melting a mixture of powders
The devices available in the lab are designed or selected, to optimally support the research group's mission: To efficiently design and produce new alloys specifically for AM. There are very few atomizers available worldwide in research institutes that are capable to produce small powder batches of just a few hundred grams in the required size range. The atomizer is of the EIGA-type (Electrode Induction Melting Gas Atomization), which enables us to process reactive and refractory metals. Additionally, it is built in a modular fashion, allowing for easy cleaning between experiments and future modifications.
Among the available AM processes, we focus our work on the SLM process because it involves the smallest melt pools and hence the highest cooling rates. Our SLM machine is equipped with a small build platform and therefore requires only little powder. Its build platform heating system allows processing materials up to 800°C, which gives a high degree of freedom to avoid defects and to perform in situ heat treatments. In the beam path of the laser, there are two high-speed spot pyrometers for process monitoring. Finally, also this machine is designed for simple powder exchange and minimum cross-contamination.
In addition to the larger machines, the lab includes some powder handling equipment such as a sieving station, a powder drying oven, high-energy ball mills (Fritsch Pulverisette) as well as a microbalance with a density measurement kit.
---
SLM laboratory machine Aconity 3D MINI
Main features

Fully customisable process parameters
Open machine design for quick material exchanges
Reduced size build platform (50 mm diameter) for working with small powder quantities
Heated build platform up to 800°C
Process monitoring by high-speed pyrometry
---
Experimental EIGA powder atomizer
Main features

Induction melting, free-fall gas atomizer
Crucible-free melting of the feedstock material for high-purity atomization
Argon gas as atomization medium
Allows atomization of in-house produced alloy ingots